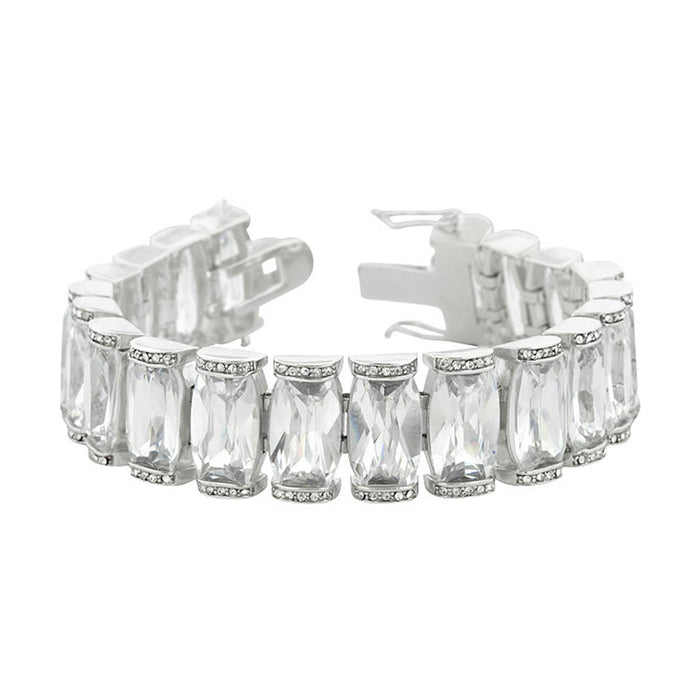 J Goodin Classic Bridal Style Cubic Zirconia Silvertone Finish Elegant Bridal Bracelet For Women
Genuine Rhodium Plated to Lead Free Alloy 7.25 Inch Elegant Bridal Bracelet with Cushion Cut and Round Cut Cubic Zirconia with Box Tongue Clasp Polished into a Lustrous Silvertone Finish. Fashioned with chunky stones and light-catching accents the Elegant Bridal Bracelet is a beautiful addition to any jewelry box. Pair it with simple pieces to enhance its eye-catching qualities. Our genuine rhodium finish is achieved using an electroplating process that coats the item with heavy layers of rhodium a close cousin to platinum which gives our jewelry a platinum luster. Setting Type: Pave, Bezel. Style: Tennis, Classic, Bridal. Stone Cut: Radiant, Round. Bracelet Clasp: Lock.

Materials: Cubic Zirconia. BaseMetal: Lead Free Alloy (Brass).

Plating Color: Silvertone Finish. Color: Clear.

Carat Weight: 172.5 (ct). Size: 7.25 inch

Stone Size: round 1 (mm) x 1 (mm); radiant 15 (mm) x 9 (mm)

Audience: Women. Country Of Origin: China.